Office Cleaning Services Qatar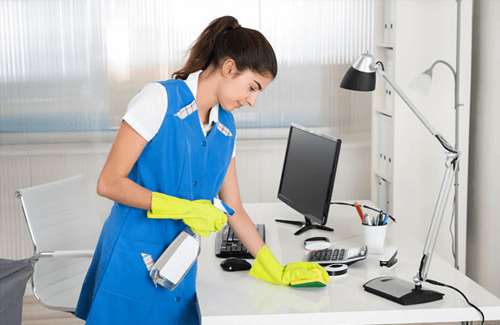 Your office is the location where people gather to work for you, and to get these people to work productively, you will require an environment which is safe, comfortable, and perhaps most importantly, clean. The cleanliness of the office location can have a direct impact on how productive the work that is coming from your office is. If these employees of yours happen to inhabit an office that is unclean and filled with mess, it will not give them encouragement to work. If yours is an office that requires cleaning, Pick Maid's office cleaning services will do the job for you.
Offices of all sizes are cleaned by our maids
We are a group of highly trained and experienced maids who have the skills and expertise to bring about effective to cleaning to any office environment, of any size or shape. Our maids are specialised professionals who have performed office cleaning services to various commercial enterprises in Doha and have successfully delivered the vision of the perfect office to owners and have gained their trust through our comprehensive office cleaning.
We have delivered office cleaning to plenty of clients all across Doha and Qatar and they have all been satisfied with the results that we have been able to produce. We are not restricted with our cleaning because the size of the office is too small or too big, we are able to pull of the office cleaning despite the size, and every single time we have managed to get a comprehensive cleaning done on all premises.
Some of the pertinent services that we do
We are adept at all aspects of office cleaning and can clean multiple locations and objects. We are adept at:
Landscaping
Pest Control
Pantry Services
Floor Scrubbing
Glass Cleaning
Upholstery
Project Cleaning
Pest Control
Pick Maids offers our services at an affordable rate so that you can experience the cleanest office that will lead to greater productivity from all your employees, morale boost, and employee satisfaction, all of which are important factors for the successful growth of a business.